This is Day 10 of the 10 day Build Your Website Challenge, on how to backup and maintain your website. If you missed Day 9, on Building your WordPress Menu & Footer, you can find it here.
The goal is that, by the end of 10 days, you'll have your DIY mobile responsive website up and running!
YAY!! You did it!!!
Back up your website!
This part is so important. You don't want to risk losing all your hard work, right?! Adding a plugin and running the first back up is the key to how to backup and maintain your website. Let's back everything up and make sure you don't lose everything you've built!
This one is very easy!! You just need a free plug in (like an app for WordPress) to do the backups for you. You set it up and run it once (super easy, if it takes you longer than 15 minutes, you've gone off the rails). Here's the step by step:
Go to your wordpress dashboard. (If you don't know how to log in to WordPress, read this.)
I recommend using Updraft Plus. It's free and very easy to set up. You set it up once and then run back ups (just clicking a button) every week or so, and you're good to go. Here's how to do it:
How to Backup your Website:
1. Go to your WordPress dashboard. (If you don't have WordPress set up yet, you can follow these step by step instructions for setting up your website.)
2. Go to Plugins > Add New
3. There's a search box at the top right. Type in Updraft Plus.
4. There are a few different Updraft plug ins. We need the one that's for backups. It should say 'UpdraftPlus WordPress Backup Plugin.' Click 'Install Now' and then 'Activate.' Now, the backup plug in is live on your DIY website.
5. To set it up and run the first backup, go to Plugins on your WordPress dashboard. Scroll down until you find Updraft. Click on Settings and follow the instructions to set everything up. If you get stuck or you're not sure, don't worry, because Updraft has customer support. And no, you don't need premium for right now.
6. Once a week or so, open up the settings on the plug in (like you just did in step 5) and click the big blue 'backup now' button. I also do this before and after I make changes on my site, just in case.
That's it!! Your DIY website is all backed up and ready to go. If anything happens or breaks accidentally (never through user error, of course!!), you'll be covered.
Now is also a good time to make a list of ideas and goals for the future:
>What are the things you had on your list for this week but didn't get to?
Did you get to finish the mobile responsiveness, or are there still little tasks to clean up there? Did you have more content you wanted to add but didn't have time?
>Are there pieces of your home page that you still have left to build?
Did you have time to build all of the sections of your home page that you wanted to build? Maybe you have ones that you wanted to get to and just didn't? Or maybe you thought of new things that you wanted to add later on? Make a list of everything now so you don't forget!
>Is there any design stuff that you'd like to change or clean up? 
Did you come up with a great design idea halfway through and want to go back and add it in to the rest of the page? Do you have that one section that's still not looking quite how you want it? Did you want to play around a little more with some design ideas or add some animation?
>What additional pages would you like to add in the future? 
It's a great idea to write this down now, while your ideas are still fresh. Maybe you want to break your one long page up into smaller pages in the future? Maybe you have more content to add on new pages, but you haven't had time to write it or collect the image yet?
>What functionality would you like to add?
Check your list from day 2! Is there anything that you need to hire a web developer to help with? Maybe you want to add a store in the future? Or maybe your next steps are to add an email list and you can start to tackle that now?
>Did you have content you cut or moved around that you'd like to add back in later? 
Maybe you decided to include shorter versions of things on your home page? Or you only wrote 2 paragraphs when you'd like to include a whole story? Where there content parts that you combined for now, but would like to separate out later? Write it down now so you don't forget!!
>What things are still pending on your to do list?
Do you need to find a tutorial or hire someone to help you with those? Break the task down into small, do-able steps and add it to your to do list. (Or better yet, do the first task right now!)
The Divi blog is a huge source of information and support. It can be an overwhelming resource, so don't be afraid to just use the search function and look only for what you need. You don't have to do everything!! (But of course, you can also get super into it and build yourself the greatest website to ever exist.)
Share your website with everyone!!!
Send me your link and let me know if I have permission to share your site.
Tell your friends & family & spread the word!!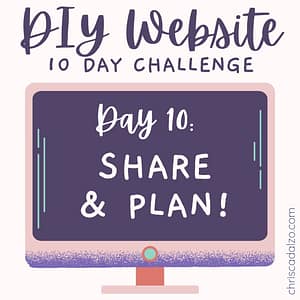 This is a HUGE accomplishment. How long have you been procrastinating this, really?  And now it's DONE. What a relief. Now you can move on to the million other things you need to do to run your business. But at least this one enormous thing is off your plate!