This is Day 5 of the 10 day Build Your Website Challenge, on how to organize your website content. If you missed Day 4, on Collecting Content, you can find it here.
The goal is that, by the end of 10 days, you'll have your DIY website up and running!
This is one of those steps that you probably could skip, but it's going to save you a ton of time and frustration down the line if you do it now. Being organized is one thing that really helps, even if you decide to work with a web developer down the line. Having all of your content ready to go is one thing that will save your developer time (thus saving you money). So, even if you don't finish the challenge and don't end up DIYing your website, you'll probably need to complete this step at some point anyway.
Go through all your website content and organize it into groups.
Each of these groups will be a section on your website. A section takes up about the screen size of a laptop, so if you have too much content that you want to put in one section, it's best to break it up. A good amount of content for a section could be:
>a big image with your business name & tagline over it, and a button for people to contact you. 
>one image and 2-3 short paragraphs (or 1-2 medium paragraphs)
>3 pricing options and the highlights for each one. Divi has a pre-made pricing table, and I love it.
>a footer where you have all your contact info and a logo
>a map with your location and address. You could also add a separate section with photos of your location and specific directions to how to arrive.
>1-2 sentences inviting people to contact you, your contact info, and a contact form.
>3 blurbs about why people should work with you and a button under each one. Divi conveniently has a 'blurb' module with preloaded icons for this one.
>2-3 testimonials from previous clients. You can have these in a row with 2 or 3 columns. Or, if they are longer, give each testimonial its own row. You could even use a slider for your testimonials, the way I did on my home page, or on this jewelry artist's reviews page.
>a list of steps for what will happen when people work with you, or what your process is like.
>7-10 frequently asked questions. I like to use the Divi accordion module for this one.
>1-2 paragraphs and a video
Find examples to use as a model for how to organize your content.
These are just examples to give you an idea of how much content to put in each group. Try to keep everything in bite size chunks. A wall of words is not your friend when building a website!
You can also take a look around at other websites that you like and see how they break up and organized their content. Pay attention to ones that make you feel like they have too many picture or too much text. Look for examples of a good amount of content for each space, and use those as models for how to organize your website content.
If you're using Divi, many of these sections are already pre-built for you as part of their website layouts. You can also take a look through their layouts to get ideas for how to organize your website content or to see if there might be content sections that you haven't already thought about.
Use your time today to group your website content into sections.
It's okay to add more in or cut things. Remember, you're just trying to get your website online, you can always add more content or pages later!
Bonus points and a gold star if you can also put your sections in the order you want them to appear. You might also want to mark each section with the level of priority, in case you start to peter out in the middle. The parts that are most needed can be done first, then you can do the others if you have energy and focus to keep going, or come back another day and add those in. 
If you have a lot of content, you might wan to start breaking things into pages instead addition to sections. It's up to you if you want to have one really long page or break that up into several pages. One long page is usually good for when you have a lot of content on one topic, or when you want to keep the person's attention, like with a sales page. But, if you feel like maybe your page is getting too long and you don't want to cut anything, then try breaking it up into pages instead. If you're not sure how to do that, check out this article on what pages your website might need.
How to organize content for your footer & menu:
One additional thing to think about here is what content you'd like to have always available at the top of the page. Many sites put contact information or an important button right in the menu of their site, so it's always there. It's also very common to put your logo in the menu.
For the footer, many websites have additional links, store/ work hours, and contact information. Again, it's common to include the logo, or maybe just the business name and tagline. There's also usually a bottom bar under the footer that has copyright information and a year. It's up to you what you'd like to include at the very top and very bottom of your website, though.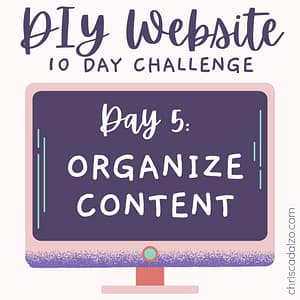 Okay, that's it for Day 5 of the DIY Website Challenge. You're halfway done, YAY! If you didn't get through everything, it's fine, and you can continue to add and organize your content as you go. It might not look like much right now, but tomorrow we'll take all of this work and put it up on your actual website. Woot.