Welcome to the 10 day DIY Website Challenge!
If you've decided to try DIY-ing your WordPress site (instead of hiring a freelance web developer to do it for you), you're in the right place. The goal is that, by the end of the challenge, you'll have your website all connected and online. Hopefully, you'll also have chosen some design elements and added content to your home page. Plus, I'll show you how to set up your menu/ header and footer. We'll even make it mobile responsive!!
Okay, so, let's get started buildling our DIY websites:
First, let's make sure you're in the right place. This DIY website challenge is for you if:
You've decided not to use a freelance web developer (at least for now).
You have set aside time to work on your website.
You've been trying FOREVER to finally build your website or blog and just need some structure and guidance to get you going.
It's not for you if:
You've decided to use a paid website builder (such as Wix, Weebly, SquareSpace, etc.) .
You don't have time to work on your website.
You want a completely free website and have no budget at all.
What you need to DIY your WordPress Website:
Patience.
Tech can be confusing, even for us professionals. When you get confused or something seems to not be working correctly, take a deep breath. Walk away and get some perspective. Go pet a dog. Do not throw your laptop out the window (it might hit a dog!).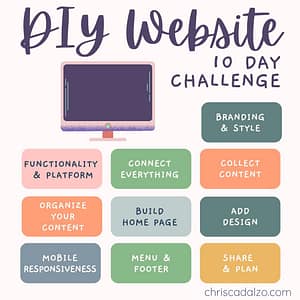 Over the 10 days in this DIY WordPress Website Challenge, we'll cover: (scroll down for blurbs about each part)
On the first day of the DIY website challenge, we'll pick branding colors for your business (if you haven't already). We'll also choose the colors & fonts that will form the heart of the design for your website. If you don't have a clear name and tagline for your business, you can do that on day 1 of the challenge, as well.
On day two of the DIY website challenge, we'll figure out what you want/ need your website to actual DO. Then, we'll pick the platform that best suits your needs for your website.
Day three can be a little daunting, but I'll walk you through everything, step by step. We'll get the hosting & domain, the theme and the child theme (don't worry if you don't even know what those things are yet!). And we'll connect everything so that you're ready to build an actual, live website.
On day four of the DIY website challenge, we'll gather all of the content that you need for your site. We'll figure out what paragraphs or text you need to write. Also, we'll gather or create images and pictures that you'll want to include on your site. And, we won't forget about all the little details, like contact information and FAQs that your customers might have!
Once you've gathered all of your website content, you might be feeling overwhelmed. It can be really challenging to take all of that information and transform it into a website! On day five of the DIY website challenge, we'll take the time to organize your content into sections. Once everything is in sections, it's much easier to choose a layout for each individual part and put it all together without getting overwhelmed.
Day 6 of the DIY website challenge is my favorite! This is the day were I'll walk you through, step by step, how to actually build your website's home page. We'll turn all your sections that we organized on day 5 into actual parts on a real, live website. I promise, you can do it!!
On day 7 of the DIY website challenge, we'll play around with different design elements to really bring your website to live. You can do as much or as little as you want here, it's totally up to you! The hard work is done now, and this is the fun part of web design.
On day 8 of building your DIY website, we'll tackle an annoying but important task: making your website mobile responsive. Most websites are actually viewed on tablets or phones, so it's important that your site looks good on different screen sizes. I'll walk you through how to do that, step by step, so you can make sure your site looks great, no matter what size screen your potential clients and customers are using.
If you look at your DIY website after day 8, you'll notice that the parts at the very top and the very bottom still look wonky. We'll fix that today! I'll walk you through, step by step, how to edit your WordPress menu and footer so that they look exactly how you want them to.
On the last day of the DIY website challenge, we'll do some key tasks. I'll walk you through how to back up (and update) your new website. We'll also talk about ways to share your site with your friends and family and start to reach potential clients and customers. Finally, we'll discuss next steps and make a 'wish list' for how you'd like for your DIY website to grow over time.
Get started on your 10 day DIY website challenge!
I've set this up as a 10 day challenge. Ten days feels like a do-able amount of time. Most of us can clear some space on our schedules for 10 days. It's also a good amount of time where we can usually stay focused on a task before we start to get tired of it and want to move on.
Even if you can't finish the challenge on your own and decide to hire a web developer, you'll still be way ahead of where you would have been! You'll still save money working with your developer, because you'll have some of the work done. So there's really no harm in trying, and you have a lot to gain.