I've been a professional web developer for over 6 years now, and this is one I get a lot! The internet isn't as new as it used to be. A lot of us have websites out there that we created back when blogging was just getting started (remember 2008, anyone?). And now those websites (unlike the people who created them) are looking a little old and tired.
So waht do you do if your website needs a refresh? Should you just scrap the whole thing and start over? (Please don't!) I'll help you figure out how to give your website an update without getting overwhelmed and/ or frustrated.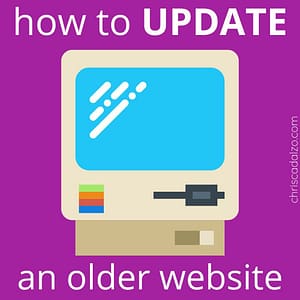 This is a good time to implement big changes.
Take a step back and look at your whole site and business. Are things running the way you want them to? What big changes do you want to make? If you're already updating your website, this is a great time to consider making other big changes all at once (just don't get overwhelmed!).
Consider if you need to switch platforms.
If your site is built on WordPress.com or a website builder and you want more flexibility and control (or you're tired of paying monthly for it!), it might be a good time to switch to your own hosting and WordPress. Or maybe you're ready to graduated from Blogger's free platform to your own hosted website. If your website needs an update anyway, this might be the time to migrate everything to a platform that works better for you.
Fix or remove anything that's broken.
Say sayanara to anything that just is annoying or not working properly. If there's something on your site that just doesn't function properly, you're going to lose credibility and clients over it. Instead of keeping it on your to do list and having it nag at you, just remove it for now. You can always add it back in later!
You might just need a change of theme.
We all knew and loved the 2017 theme's plant on a desk. It was just so soothing and welcoming back then. But now it's 2023 and that plant has probably gone on to bigger and better things. And so should we. If all your site needs is a facelift, try switching to Divi and you'll probably be a lot happier.
It's a good time to review your content.
Take a look at your menu and see if you're still using everything on your site. Is there anything you can remove or reorganize? Are there pages or posts that you want to remove or consolidate? Just don't get bogged down in this, because updating your content can become a whole rabbit hole. But if there are things you are planning to get rid of anyway, don't waste energy updating them.
Change out the curtains & pillows fonts & colors.
We all know from the avocado green and goldenrod yellow of the 70s that colors can go out of style. But did you realize that fonts could be dated as well? Changing out or updating your branding colors and fonts can go a long way to making your website feel fresh and new.
What are your goals and plans for the future?
Do you need to make space or add functionality for those? Do you want to add a mailing list? A quiz? Maybe get serious about your blog? Think about your plans for the future of your website and build in space for those now. Maybe that means switching to a different platform, like WordPress, to have more functionality. Or maybe that means choosing a theme that's great for blogging. If you need deciding, check out this article on choosing the platform that's right for you.
If you're looking for someone to help walk you through this process and take care of the tech stuff for you, I do that often for clients. I'm happy to help you figure out what you need and prioritize getting things done within your budget. Just contact me to get started!