Oh, you hate your WordPress website? I hear you. I get a lot of clients with this problem, as well. They hired a cut rate web developer, or their friend's nephew took a stab at it, or they tried to DIY it and took bad advice and gave up. Maybe there are some thing you like about your site, and so you're hesitant to throw the whole thing out and start over. Perhaps you built your site well, yay! But, the year was 2008 and now it's time for an update. Did you start and then get frustrated and now you're ready to try again? Or maybe you've spent a lot of money on your site so far, and the sunk cost fallacy is making you afraid to lose the work you already paid for. 
If this is you, you're definitely not alone. This is a very common issue in the WordPress world. In fact, this used to be me, before I became a web developer! So, I'm sharing my recommendations for what to do if you have an existing WordPress site that's just not living up to your expectations. 
(If you have an existing website that's on a website builder like Wix/ Weebly/ SquareSpace/ Shopify, this article isn't for you. Read this one instead, friend.)
Side note: If you have a WordPress .COM and not a WordPress .ORG website, it's understandable that you hate it. WordPress .com was built for very cheap, very basic blogging. There are a LOT of things you cannot do with a website on that platform. In fact, you can't even monetize it! So, if you have a WordPress .com site and hate it, you're totally justified. Try switching to WordPress .org and you'll likely feel much better. But, if you don't, just come back here and keep reading to find out how to save your WordPress website!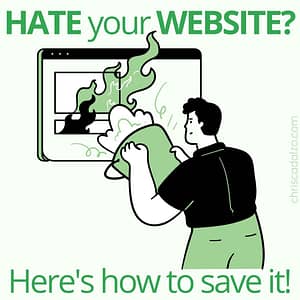 Here's my recommendation for what to do if you hate your WordPress website:
If you love your theme and you can edit it, stick with it and try editing yourself.
You have everything you need. Google 'theme name tutorials' and try one or two every day until you learn what you need to know to get your site looking the way you want. You might also want to try learning a little about CSS code from CodeAcademy. That's how I learned, and I use those skills all the time to add custom CSS to websites to style them exactly how my clients want. It's more complicated for sure, but once you can figure out how to add CSS to your site, the options for styling are basically unlimited.
If you love your theme, but don't want to DIY it, hire a web developer.
Make a list of what you love about your site and what you wish you had/ would love to change. You can hire a developer on Upwork or contact me, if you'd like. Your developer can tell you how much is editable and what things might be more complicated to change.
But don't get stuck here thinking that you have to stick with your current theme just because you paid for it. There's only so much web developers can fix, and if the theme itself isn't great, it might be a better long term solution to just change it out instead. You don't want to throw good money after bad and pay a developer to keep fixing things that would be more easily fixed with a new theme.
If you don't love your theme, or if you tried to edit it and gave up, I recommend switching to Divi.
Switching out your theme is like changing out the furniture, curtains, paint, throw pillows, etc. in your house. You can change those out without ripping the whole house down. And because Divi has a 30 day guarantee, if you hate it, you can switch it right back. So there's nothing to lose by trying it out. So, if the main issue is that you want to make changes to your site and can't figure out how to do that, then Divi will help you solve that problem. 
The other thing about Divi is that it's completely customizable. So if the issue was that you didn't like the colors or fonts or animations and you couldn't change them, this theme will fix that for you. It's super easy to change the layouts, styling, just about anything in the Divi theme. And no, you definitely won't need any code! It's all done in a visual builder. So, you just drag and drop, and you can definitely handle that!
If you hate your theme, just trust me and switch it to Divi.
You can always try out a few free themes first, and if you happen to find one that does exactly what you want, then keep it. Also, you should definitely also buy a lottery ticket before your luck runs out. A more likely scenario is that you'll find a free theme that seems great, but then you'll try to edit just one little tiny thing that's driving you nuts. And bam, you'll spend the next three years of your life trying to change that hideous bright yellow link to your gorgeous teal branded color. (Definitely not based on real events, wink wink.)
But what if I have some pages I want to keep? What happens if I switch the theme? I don't want to lose my work!
You can keep your pages! You can keep them as is, or you can convert them to Divi. I usually end up rebuilding all the pages in Divi eventually, but at least if you have some pages already made, then you're ahead of the game.
That's it! Making a decision about what to do with your site is the hard part here. Once you've done that, you're on your way! If you need help installing the Divi theme on your WordPress website, check out this article where I walk you through it step by step.