Sometimes the hardest part of building a DIY website is just picking the colors! There are soooo many options to choose from, and it can be hard to know what works well together. Here are a few trending website color palettes that you can pick from to get you started. And remember, you can always change your mind!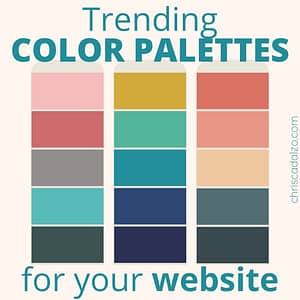 Website color palettes that use white:
The hexcode for pure white is #FFFFFF.
I love to use white as a background color, for a variety of reasons. First of all, it goes with everything. You can use any of the other colors in your palette and it will almost always look good.

Peach, Navy, & Neutrals Color Palette
I love a peach/ navy combo. This one is also a favorite because the navy, greys, and white are all neutrals. Then, you hae the peach for an accent. If you're building a websit with this color palette, you can combine the navy or peach with any of the neutrals to give you lots of options. A button or call to action in the peach color would definitely stand out on a website with this color palette! Click here for the link to copy/ paste/ edit the above colors.
Burnt Orange & Slate Blue Palette
This color palette feels like. a more sophistacated way to use the complimentary colors of blue and orange. Again, you have the three on the left as neutrals. Then, you have the slate blue and especially the orange color as accents. Click here to get this orange, blue, and grey color palette for your website.
Teal & Goldenrod Website Color Palette
This one is defintely a bolder, brighter color palette for your website. I love to combine two different shades of the same color on my websites. The dark teal on top of the light one (or vice versa) would work great for text or highlight boxes. Same with the two oranges. The white here is the perfect background for these bright bold tones. For the teal, orange, and white color palette hexcodes, click here.
Americana Website Color Palette
Okay, this one's technically not pure white, but it's close. Pure white has a hexcode of #ffffff, and you can see this one is just slightly different. But, this faint blue is a good balance for the three other blue tones in this color palette. And, the softer red is a great accent here. Imagine a 'contact me' button in that red on a page of all blue tones. Now that would stand out for sure! You can get this very Americana website color palette here.
Bold Website Color Palettes:

Deep Red & Teal Color Palette
To be honest, these are not colors I would normally pick for a website. But somehow, they work really well together! I love the deep teal and deep red. They just have such a bold, sophisticated feel to them. The off white feels so warm and pulls the whole color palette together. But, I could also see this working with a crisper, pure white for more contrast.
Rose & Blue Color Palette
This color palette has the similar sophisicated feel of the one above, but in softer tones. If you're looking for something that feels more feminine, but professional, this could be a good options. I could see adding in more pinks and leaning on the lighter colors, or adding in more blues to go in a more grounded direction. Definitely stick with an off white on this one, but a deep charcoal would be great for text here!
Yellow/ Orange & Blue Tones Color Palette
This Goldenrod/ Orange and Blue tone color palette is definitely the boldest of these trending website colors. I tend to be more conservative with my designs, so I would probably go with using mostly the blue tones and then creating accents and buttons with the yellow and orange. But if you're looking for a design that stands out more, try using more of the brighter, warmer colors and accenting with the blues.
Monotone Website Color Palettes:
If I had to choose one color for all my website designs, it would definitely be blue! It's so calming and professional at the same time. These tones all complement each other and the layering options are endless. Pair this blue color palette with white and dark grey (#333333) as your text, and you're all set! You could probably build 10 different websites with this monochromatic color palette, and they would all come out differently.
Neutral Color Palettees for Websites:
Soft Greens & Browns Palette
I honestly love this one and wish someone would ask me to build a nature themed website in a soft color palette so I could use this. The off white perfectly complements the two sage green tones and the two brown tones. Plus, the darker green and darker brown could be use for text on the off white background.
Bolder Neutrals
On the other hand, this is a great color palette that shows that neutrals don't have to be soft or boring! The browns and greys are still neutral feeling, but in bolder versions. If you're looking to make a website that stands out a little more, this color palette might be a great option. I could see adding a bold accent color to this and having a website that really stands out!
Neutral Color Palette with more Color!
I wasn't sure if this one even technically counted as neutrals, to be honest. But it defintely has a neutral vibe to it that I love. I'm not sure these colors would layer well, but they all fit together to create a very calming yet interesting color palette. If you like softer colors but still want to stand out, this would be a great option for your website color palette.
I hope you've found a website color palette that strikes your fancy! (Or at least found some inspiration for your website colors.) If not, try taking a look at some websites that have your favorite designs. Try grabbing one of their colors and then building a color palette from there.